Fiume loved to prance.
In the afternoons I'd play with him on the ancient road outside our house. He'd pick up a stick and I'd chase him about, letting him race past me, growling at each other when I finally managed to grab the stick.
The last time I saw Fiume he was prancing. We'd been playing, and as I went inside he turned back to look at me with tail wagging before heading off for adventures unknown.
Such a boofy happy guy, and our first family dog, we saved him from certain death.
His previous owners kept him chained in the side alley, they had gone through five dogs in the eighteen months we've been here.
When they finally moved out we were offered Fiume for ten euro otherwise they were going to kill him.
Of course we took him
The photo of Carina in the lane way is the day he was given his freedom. Even after months with us he was still cowed down and would bark and grown at anyone walking through the Borgata carrying a stick. His previous owners were not kind.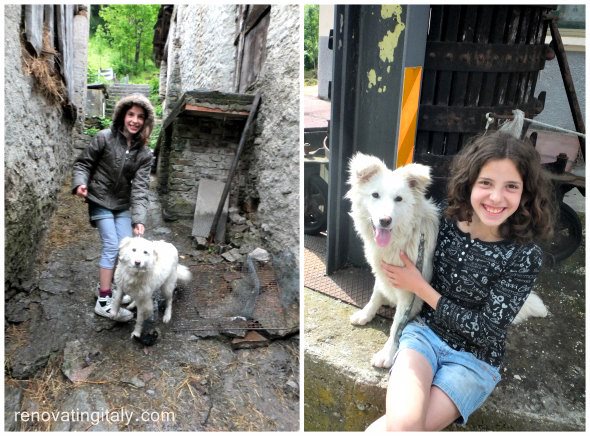 He changed all our lives, especially Carina and Sam, of course he and Carina were instant best friends, and it made me smile to hear Sam talking with him when he thought nobody was around, just last night he said "I didn't think I'd miss him but I really do" which is a big admission for my 'No way are we getting a Dog' husband.
When I was growing up my best friend and confident was our golden Cocker Spaniel Jamie. I wanted Carina and Luca to have the joy that only a dog can bring.
Fiume was that Joy.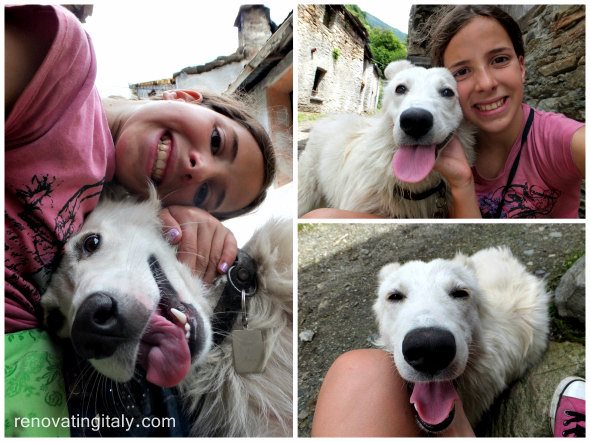 I hope Fiume finds his way home but as the days pass it seems less and less likely.
Our neighbors Anna and Sergio have been out looking for him in the snow as have we. They love him and he often spends the day next door with their dog Lucky. When we go away in our campervan it's Anna and Sergio that take care of Fiume.
They talk to us about cliffs, snow and wild boar when Carina isn't here and don't think he is still alive.
I hope that if he is dead that he didn't suffer.
Our Valley is wild and  rugged, it's not like a suburban backyard where you close the gate and your dog stays put all day.
Here dogs are often chained and I'd rather he have those six months of freedom than a lifetime on a chain cowed down and lacking all affection.
We gave him a glimpse of what life should be like.
He got to be a part of a family that love him. A much loved part of our 'pack'…….come home Fiume, we all miss you x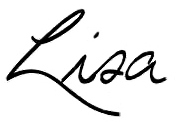 and the heart broken gang x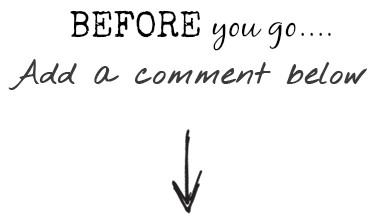 Save
http://www.renovatingitaly.com/wp-content/uploads/2015/01/DSCF1324-rsz.jpg
443
590
Lisa Chiodo
http://www.renovatingitaly.com/wp-content/uploads/RI-logo-214-X-50.png
Lisa Chiodo
2015-02-01 13:57:22
2017-07-12 21:47:36
Fiume - a dog lost, our hearts broken