"Our Christmas in Italy has bought us unexpected gifts and moments to treasure"
Lisa Chiodo
Natale, or Christmas in Italy taught us many lessons this year. A peaceful Christmas, one without stress, with simple moments and even greater joy. The spirit of Christmas felt alive for me for the first time in many years. Not about grand gifts or massive meals that take days to recover from. Just about enough….filling our hearts not our stomachs and seeing our children happy with a gift each rather than mountains under the tree. The true gift of Christmas in Italy I am finding is the gift of time. Sharing this with you all has been a joy with your beautiful Christmas cards and wishes surrounding us, these were my gift and one I'll treasure for years to come.
Luca found his 'minions' in a store window and we had to return to take photos of them all the next day. This is his current love and last Christmas it was 'Star Wars'. He made little minions to hang on the Christmas tree and I love them.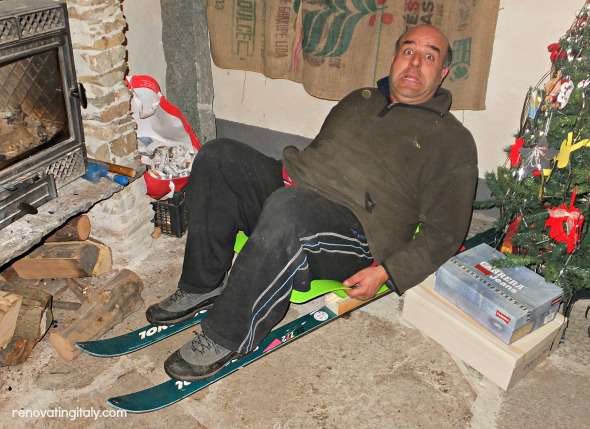 Sam had the excellent idea to get the kids a sled for Christmas, we tried it out early and now we are waiting for more snow. Not to be outdone on speed or lunacy Sam then decided he should make a sled from the old ski's we found. A trip to the local 'op shop' and we found a seat for  the rocket sled. A few bolts, some blocks of wood and voila….the boys (Claudio and Sam) have gone up the mountain as I type to try it out. I'll let you know if they come back in one piece. It was met with much head shaking and amusement by the Italians but I bet it will fly!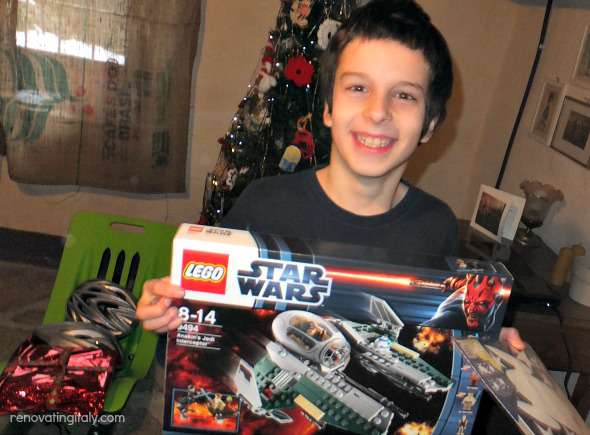 A few trips to the shops and lots of fun checking everything out, yes these are fireworks and New Years Eve is going to be a blast literally!
The best part of Christmas day was Sam and Carina doing some cooking together, Sam was on the phone to Australia to get the recipe from my Mother in Law for these little Sicilian biscuits. They taste delicious according to the rest of the family…..blahhhh. Claudio and his family came over in the afternoon and we shared panettone (not for me either) and a few drinks to finish the day. Once the kids were in bed Sam and I sat up and watched a movie called 'Saving Mr Banks' which I highly recommend. Total relaxation…..bliss x
Thank you all for reading along this year and always sending me encouragement, love and your belief in the dream that is Italy…..enjoy Christmas in Italy with us

Without you all our Christmas in Italy would have been less joyful……Buon Natale and here's to the New Year ahead may it bring you closer to your own dreams xx
I'd love you to share your favorite Christmas moments with us xx