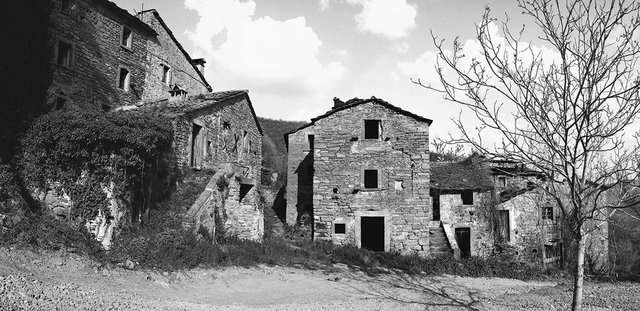 I can't remember how I came across Borgo di Vagli, now a touchstone for our dream Italian village.  Instantly wrapped around my heart I fell in love. Not only with the stunningly restored 14th century hamlet but with the abandoned broken buildings that held the original promise of renewal.
It was architect Fulvio Di Rosa with the assistance of Dina Fragai that took this "crazy dream" and turned it into reality. Not a simple task certainly and one that took years to gain the necessary approvals. I have watched this footage taken in December 1999 by Lee & Cecilia Cogher many times and wonder what thoughts were going through their heads as they wandered the ruins. Would the excitement out weigh the enormity of the task, did they find themselves consumed, drawn in, with no other option but to chase this wild dream.
We explored our rustic village like kids in a lolly shop, already making plans in our heads and talking of nothing else until sleep took over that night. Ever since this ancient place in the mountains of Piemonte has been a part of me, like a second wedding ring that I would never remove.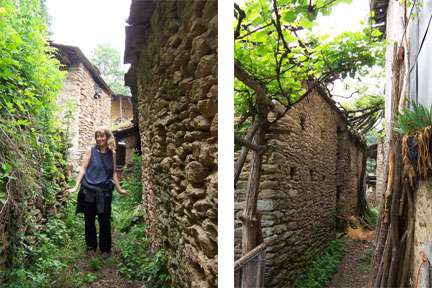 Walking back through time is a gift, one that I am constantly drawn towards. I'm sure this is why I love places like Borgo di Vagli so much, the spirit of the past is still there. There is nowhere to get, it is complete within itself. Waiting only for the right people to come along and restore it to it's original state.
To think that the doors and windows have not been changed, which means that the light entering is the same. I could stand in the same shadows, watch the light play and dance on the richness of ochre walls just as others from centuries past did. Touch the same worn stones warmed by the Tuscan sun.
Doorways low enough to crack the unwary head, spaces rebuilt to the original designs, tiny windows and immense thick walls to keep out the heat and cold. Authentic, without pretense…recreated such that the original owners could enter as if they had never left.
"He asks himself at every decision point, how would the original owners have solved this problem? By that deceptively guiding principle, he stays true to the spirit of the place that one feels so strongly…His is the best work I have seen."

Frances Mayes, author of  Under the Tuscan Sun: At Home in Italy
For further information on Borgo di Vagli you can contact directly on the site below and let them know Renovating Italy sent you!
♦ Borga di Vagli : Club Borga di Vagli
- Localita Vagli, 52040 Mercatale di Cortona, Italy
Further Reading
Bringing Tuscany Home – Frances Mayes